Jet Ski Rental Siesta Key FL | Sarasota Jet Ski Rental
Cruise Sarasota Bay's intercoastal waters on our new Yamaha Wave Runners!
Drive your own at 18 yrs. and older with Boater Safety Course License and/or valid driver's license. 16 yrs. and older can drive with an adult on the ski. Parent must be present to sign.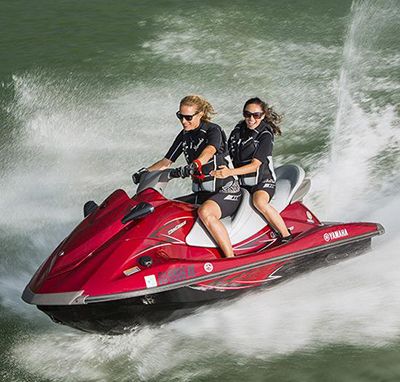 You can rent for 1, 2, 3, or 4 hours, no previous experience necessary, we give you the necessary instructions before you leave on your adventure.
Renter is responsible for any loss or damage to the jet skis.
Feel the wind in your hair, the sun on your face, and the refreshing spray of salt water.
See dolphins or manatees in their beautiful natural surroundings.
Watch pelicans, egrets, and osprey soar overhead, or cruise by the islands and shoreline where they rest.
Cool off by walking onto a sandbar to search for shells, or dive right in for a refreshing swim!
See the interesting and beautiful homes that line the waterways from an entirely new perspective.
Children and seniors will enjoy these rentals. Go as fast or as slow as you feel comfortable. Let the wind and the spray cool you off in the heat of the day, or schedule an early morning or evening rental.
We offer 1,2,3 and 4 hour rentals. 9am-6pm
Our jet skis accommodate from 1-3 people (500lbs. max.).
Rental rate of $99/hour includes gas, oil and life jackets.
Ages 16 and up can drive when accompanied by a licensed adult driver. Drivers born after 1-1-1988 and at least 16 years of age, must have a valid FL Safe Boating Certificate. The short written test can be taken at our location or you may choose to do the TEST ONLINE beforehand.
RESERVATIONS ARE RECOMMENDED - Photo ID and credit card needed.
$300 security deposit is required
VISA, MasterCard, Travelers Check and cash.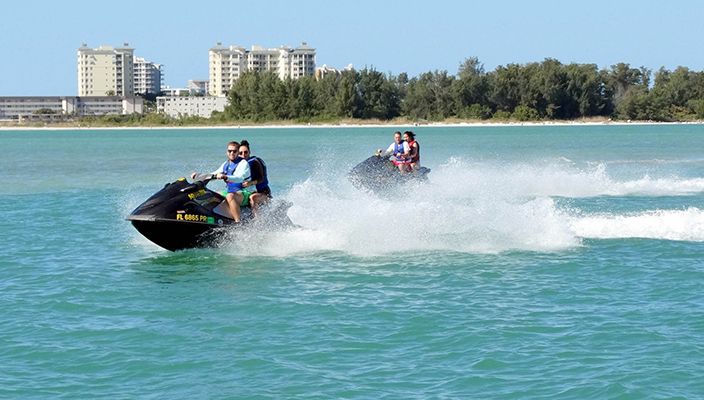 CALL TODAY TO MAKE YOUR RESERVATIONS FOR AN EXCITING (OR LEISURELY) JET SKI RIDE!
At our new location on Siesta Key! Everything in one place, Jet Ski, Parasailling, Boat Rentals, Fishing Charters, Beach Accessories and Outfitters.
Siesta Key's longest established and best known rental businessess have come together to give you all the fun you want on your vacation! We're here to make you happy!